About The Author
Phil Flynn
Phil Flynn is writer of The Energy Report, a daily market commentary discussing oil, the Middle East, American government, economics, and their effects on the world's energies markets, as well as other commodity markets. Contact Mr. Flynn at (888) 264-5665
The East Coast's Warm Fall Spells Trouble for Gas Bulls
[Emma Ockerman and Brian K Sullivan, Bloomberg]
October weather warm enough for backyard barbecues in the U.S. Northeast isn't doing natural gas bulls any favors.
From Boston to Chicago, overnight temperatures are lingering above 60 degrees Fahrenheit (16 Celsius) at a time when they usually begin dropping into the 50s and below, AccuWeather Inc. data show. Homes and businesses are using the least gas for seasonal heating in PointLogic Energy data going back a decade, and energy consultant EBW AnalyticsGroup predicts this "blowtorch October" will make an even bigger dent in demand before the month ends.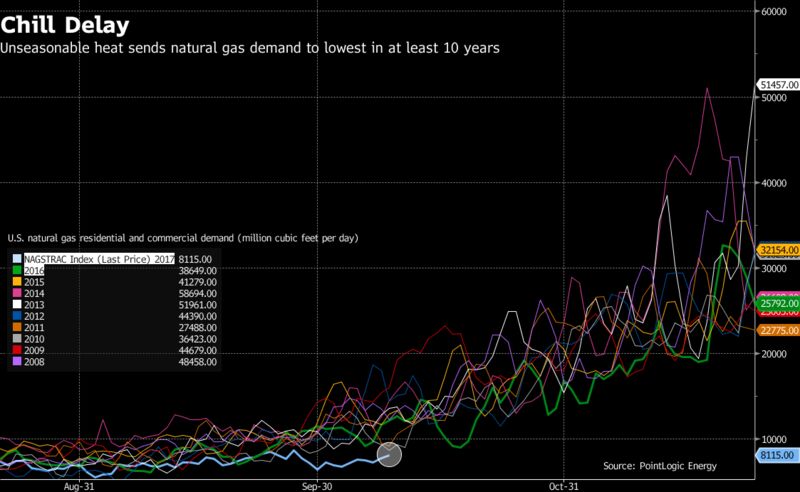 Gas bulls were counting on a quick transition between summer heat and chillier fall temperatures to keep demand elevated and limit stockpile gains. Instead, persistent warmth may revive a stubborn supply glut, threatening to send gas prices plunging even as record exports of the fuel head to Mexico and overseas buyers.
Forecasts are showing a "huge loss of space heating demand during the second half of the month," Andrew Weissman, chief executive officer of EBW AnalyticsGroup in Washington, said in a note to clients Monday. "Unless the forecast shifts again, the November contract is likely to fall" to $2.70 per million British thermal units or lower, at least 16 cents below Friday's close.
A weather pattern has left a trough of low pressure and cold across the western U.S. and a high pressure ridge that has kept readings elevated in the central U.S. and East, said Richard Bann, a forecaster at the U.S. Weather Prediction Center in College Park, Maryland.
The result is that gas-weighted heating degree days, a measure of demand, could fall to the lowest since 2007, said Matt Rogers, president of the Commodity Weather Group LLC in Bethesda, Maryland.
This warmth hasn't been nationwide, however. Frost and freeze warnings and watches reached from Minnesota and Wisconsin to New Mexico and parts of Texas on Monday, according to the National Weather Service. As much as 3 inches (7.6 centimeters) of snow could fall across Denver and lower elevations in Colorado with more in the mountains.
In the Northeast, temperatures may fall briefly as the remnants of Hurricane Nate cross the region, but the heat is poised to return, Bann said.
Natural gas traders and analysts are now left wondering if "winter delayed is going to mean winter denied," said Phil Flynn, senior market analyst for Price Futures Group in Chicago.
https://www.bloomberg.com/news/articles/2017-10-09/-blowtorch-october-bedevils-u-s-gas-bulls-as-east-stays-warm
Subscribe

Receive daily summaries of all Market Insights blog posts.

Enter email below.