About The Author
Phil Flynn
Phil Flynn is writer of The Energy Report, a daily market commentary discussing oil, the Middle East, American government, economics, and their effects on the world's energies markets, as well as other commodity markets. Contact Mr. Flynn at (888) 264-5665
Scorching-Hot Midwest Burns the Most Canadian Gas Since May
[Ryan Collins and Brian K Sullivan, Bloomberg]
The U.S. Midwest is sizzling and it's taking all the natural gas it can get from Western Canada to keep cool.
Gas flows to the region increased 7 percent in the last week, reaching 1.7 billion cubic feet a day on Thursday, the most since May 13. That coincides with the arrival of above-normal temperatures in cities from Dallas to Chicago that have pushed seasonal air conditioning demand to the highest in data going back four years. The Midwest is expected to remain warmer than normal through September 30, according to MDA Weather Services.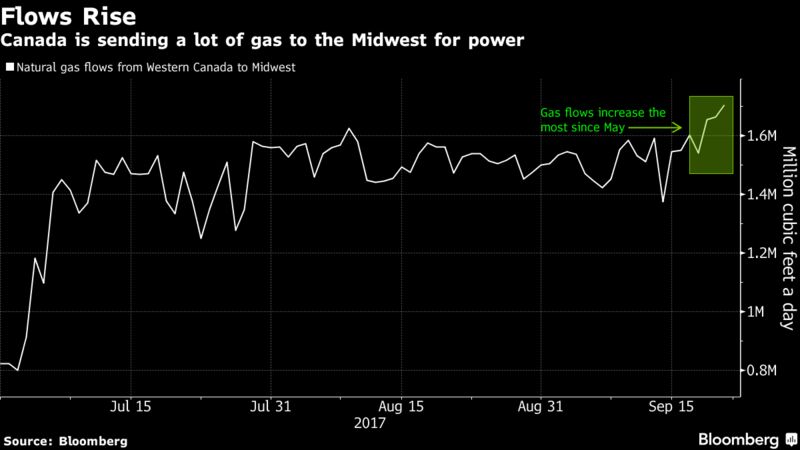 Midwest heat may throw the gas market a lifeline as it pumps up cooling demand in the face of a growing U.S. storage surplus, and it couldn't come at a better time for bulls. As summer transitions into fall, scorching temperatures may mean less gas than anticipated is injected into storage, chipping away at a glut that has persisted for most of the last two years.
"We're going to continue to see that record power demand for a few days," Phil Flynn, senior market analyst at Price Futures Group Inc. in Chicago, said by phone Thursday. "We'll be back to the pattern of below-normal injections. It could really set the stage for higher prices."
Before the heat wave set in, U.S. inventories rose 97 billion cubic feet last week compared with the five-year average increase of 73 billion cubic feet, according to the Energy Information Administration. Bloomberg New Energy Finance predicted a triple-digit gain as Hurricane Irma lowered demand for the fuel in Florida and parts of the Southeast.
Gas demand for power in the Midwest rose to 4.4 billion cubic feet a day Wednesday, the highest in September for at least the last four years, according to data compiled by Bloomberg.
"Around this week, historically, you start to see some declines" in gas demand for power, Jacob Fericy, an analyst at Bloomberg New Energy Finance, said in a phone interview. "It's the largest we've ever recorded at this time of year."
Spot power for Chicago jumped 30 percent to $88.51 a megawatt-hour from noon to 1 p.m. New York time, the highest since May, according to grid data compiled by Bloomberg. Gas slide the most in two months, falling 4.8 percent to close at $2.946 per million British thermal units on the New York Mercantile Exchange.
High Temperatures
A high pressure ridge across the central U.S. is boosting temperatures throughout the region and sending readings well above average, said Bob Oravec, senior branch forecaster at the U.S. Weather Prediction Center in College Park, Maryland.
St. Louis and Chicago set daily records Wednesday reaching 97 degrees Fahrenheit (36 Celsius) and 92 degrees respectively, according to the National Weather Service. Large departures from normal temperatures were also seen in the upper Midwest with parts of Wisconsin soaring 26 degrees above normal, Oravec said.
"The last few days of summer and the first few days of fall are going to remain warm," Oravec said. The first day of fall in the Northern Hemisphere is Friday.
And it could continue. The Midwest has a about a 50 percent chance of being warmer than normal through December, the U.S. Climate Prediction Center said Thursday.
https://www.bloomberg.com/news/articles/2017-09-21/scorching-hot-midwest-eats-up-the-most-canadian-gas-in-4-months
Subscribe

Receive daily summaries of all Market Insights blog posts.

Enter email below.

Most Recent Posts